Entry level IT. We all have to start somewhere. If you've been thinking about diving into the tech industry, you may be wondering how to prepare for MCSA certification tests. This article walks you through some great tips for nailing MCSA certification tests. Microsoft is such a large company that they have an ecosystem of products and services that cover everything from Cloud computing to Gaming. Being certified with them means being certified with an industry leader in technology. Being a Microsoft Certified Professional opens doors everywhere for exhilarating careers that you will love. Microsoft also offers some of the best certifications and programs for technical training that you can find.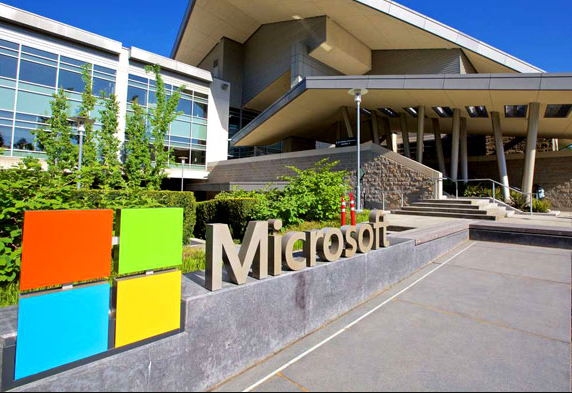 Why would I bother with MCSA certification at all?
The MCSA or Microsoft Certified Solutions Associate program is the starting point for many advanced certifications at Microsoft. The new MCSA credential is focused on certifying the ability to design and build technology solutions, specifically in the Microsoft ecosystem. Previously MSCA was focused on job specific roles but they recently changed the focus of the certification. Now a solutions associate isn't just "Implementing a known technology" but instead focused on thinking through problems and how they can be solved.
MCSA is a catch all term for being trained in one of seventeen different tech focuses using Microsoft technology. Check out all the different certs right here! If you are open to learning you can most likely find a certification that fits your career trajectory from Windows Server 2016 to Cloud computing. After being certified, you have industry standard proof that you are a capable specialist in some field of tech. On top of making you a more qualified IT professional, higher levels of training exist to broaden your skills such as the MCSE level. To get to higher levels though you must be certified on the MCSA level.
That's great, but how do I prepare for an MCSA Certification test?
Every certification will have a section like this on the cert page.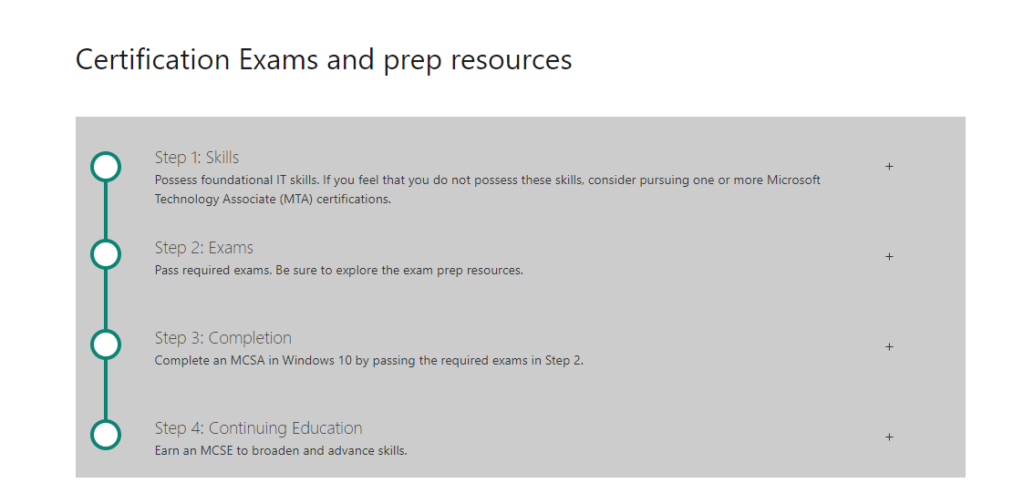 Preparation starts with learning about your particular certification. Most certs will require 2-3 exams, sometimes from a set list or involving elective courses. These exams take a significant amount of time to study for, on average cost $150, and certify that you can use some specific piece of technology. Microsoft Certifications cost somewhere between $300-$450 when all is said and done. They normally cater to one product or tech as well, for instance the MCSA Windows 10 course requires passing the 70-698 exam and the 70-697. Installing and configuring windows 10 and configuring windows devices respectively. Total that's $300 and a lot of required knowledge. They also usually list the recommended skills, which vary from basic "Foundational" skills to more specific skills.
So the first step in preparation is understanding how many exams your certification requires, what those exams are on, and what skills are recommended before pursuing the MCSA.
Second, don't ignore the incredible resources Microsoft has given you (For FREE)
Microsoft often offers PDF files and even several long form video series that document the different certifications they offer. Watch them and read up! They literally are feeding you the information you need to be familiar with. If they offer a video series, take some time and slowly work through it. Microsoft obviously selected these resources for a reason. These test are not easy, they are challenging and require a commitment to study and learn. Just knowing how to use Windows 10 or being "Good at Windows 10" is hardly a sign that you are capable. The test has very specific questions that may require a great deal of memorization.
MTA is never a waste
Because they are not required for MCSA people often discount the value in becoming a Microsoft Technology Associate. MCSA tests practical knowledge and how to actually work with a given technology, while the MTA course focuses on beginning concepts and the foundational philosophy behind a technology. It's the difference between "What is Windows 10 and why do we use it." and "Install the correct OS for this piece of hardware and configure it correctly." One teaches you what the technology is, the other certifies you can use and adapt to problems with the technology. It may seem like a baby step but if you are struggling with the practical concepts of an MCSA cert, try stepping back and learning the foundational knowledge that an MTA offers. They are generally shorter easier courses that will give you a key foundation for learning an existing Microsoft technology. It's never a waste to to pay the Microsoft certification cost for investing in a stronger foundation before tackling the MCSA level. There are a ton of MTA options and it only requires one exam to get an MTA cert.
Youtube and Online exams have never been such good friends to you
Youtube is full of great tutorials by people who have passed or train students to pass Microsoft certifications. Take time and browse all the incredible resources available. Some have created specific courses that a quick search will bring up. Also don't discount online exams. Several online tests exist for nearly every certification exam. These tests are usually written by people who have gone through the cert process, are updated regularly, and best of all tend to be free! Take some time USE THESE RESOURCES. Practice tests are designed to simulate the real world conditions you will test in and have a random selection of questions related to your specialty. Here are great practice tests that cover the Windows 10 MCSA. Take it so you can get a good feel for what the exam is actually like!
Use the uncommon virtue of common sense
Preparing for an exam requires studying. That's pretty obvious but it's amazing how many people neglect to actually study and walk into a test confident only to leave with a fail and less money in the wallet. Take the exams seriously. Drink water, rest up, make sure you are fed beforehand. The exams should be treated with the same reverence and expectation as a college exam is. Especially since passing them enables you to enter into new career paths. So you should approach your certification as serious as possible. The only thing worse than failing a certification is failing on the job because you didn't put in the necessary work to succeed.
We hope you nail those exams!
Thanks for joining us and learning how to prepare for MCSA certification tests. Pursuing certs can be rewarding financially and lead to increased options and confidence at work. Best of all, it's just satisfying to know you are an expert. You possess skills few do. We hope this guide helped you and wish you luck as you test. If you found this helpful, take a minute and share this with another techie friend or like the article. And as always remember to come back often and read some more blogs on current certs!